With all the motorhome conversions we've done so far, it's always been important to us that they're practical, look pretty and are built with the most sustainable materials possible.
Accordingly, we try to buy as little as possible new and recycle where we can. Since we have about 15 square meters of living space in the school bus, we were able to use a lot of our furniture. We had to convert some, or misuse. So an old chest of drawers became a washstand, part of a closet became our sofa and dolls' cupboards serve as wall units in the kitchen.
Kitchen living room
When you enter our coach through the porch, you're standing right in a cozy eat-in kitchen where you can cook, do dishes, hang out on the sofa, eat, sit in front of the fireplace, work, and do a bunch of other stuff.
We cook on an English enamel gas stove from the 60s, which is the highlight of the kitchen and provides faithful service despite its age.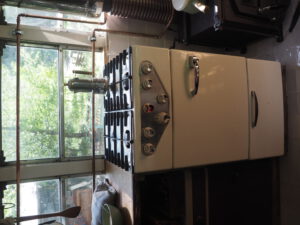 Actually, our sink is too big and much too heavy for a "standard camper". But since we have never really adhered to standards, we could also install a 20 kilo ceramic sink with two basins with a clear conscience. This is incredibly practical for collecting dirty dishes and is also suitable for washing laundry.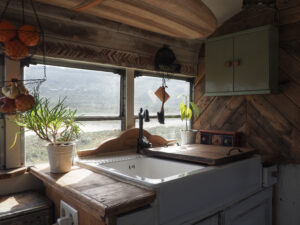 When it comes to refrigerators, we have remained true to the "Engel" brand. We got to know the refrigerators and boxes five years ago in Australia and have been convinced of their performance and quality ever since. In our VW bus we had installed the Engel MT-45-FS compressor cooler.
The advantage of a cooler is the low power consumption, because the cold does not "fall out" when you open it. However, it always bothered me to have to fish out the things you needed from the very bottom.
Therefore, this time we chose a refrigerator with 80l capacity and freezer compartment.
Bathroom
In our bathroom with a whole 1.2 square meters, we have installed a separation toilet and shower. We decided against tile in the shower stall because of the weight, instead we plastered the walls in a concrete look and sealed them with 3 coats of boat paint.
-Let's see how long it lasts.
To allow the moisture to drain away better, we have also installed a skylight.
Bedroom
It was very important to us to have a fixed bed so that you can just lie down whenever you want without having to set up, move out or fold anything down.
The bed is supported by an old workshop chest of drawers, which is also our closet, and a beam screwed to the wall. The slatted frame can be folded up together with the mattress to access the water installation in rare cases. Under the bed there are two 150 liter water canisters, a hot water boiler, a pressure pump, a pressure equalization tank, a 4-cartridge water filter and two batteries for the solar system. Translated with www.DeepL.com/Translator (free version)